Unusual Fancy Dress Hen Parties Ideas
Naughty nurses
The medical-theme might seem like an odd choice at first for hen party fancy dress. Hen dos are meant to be fun, carefree and irresponsible, which is everything we hope our nurse isn't if we're wheeled into hospital. But take a look through our range and you'll soon see why this is the perfect prescription for naughty fun and constant laughs.
Nurse fancy dress is sexy and cheeky with plenty of oversized props. Go for a red-and-white colour scheme (it's tradition) and match a red top and white skirt with bold red stockings. Your hens will almost look the real deal in one of our nurses hats, and you can even share out a selection of fancy dress gloves, syringes and stethoscopes. Just in case your audience is in any doubt of the theme.
Classic cowgirls
Channel your wild frontier girl with a look that's straightforward and incredibly fun. Cowgirls are independent and free-spirited, which is why the Cowgirl fancy dress idea is perfect for hen nights.
Get the girls to choose which stetson they like and make sure you get a special hat for the bride-to-be. You have lots of accessories to make you part of the Wild West including bandannas and frilly saloon-girl garters. We suggest kitting the hens out in jeans or denim shorts to get the cowgirl look, and make sure everyone's got a pair of Wild West guns to add a touch of glamour to your fiery, rough-and-ready theme.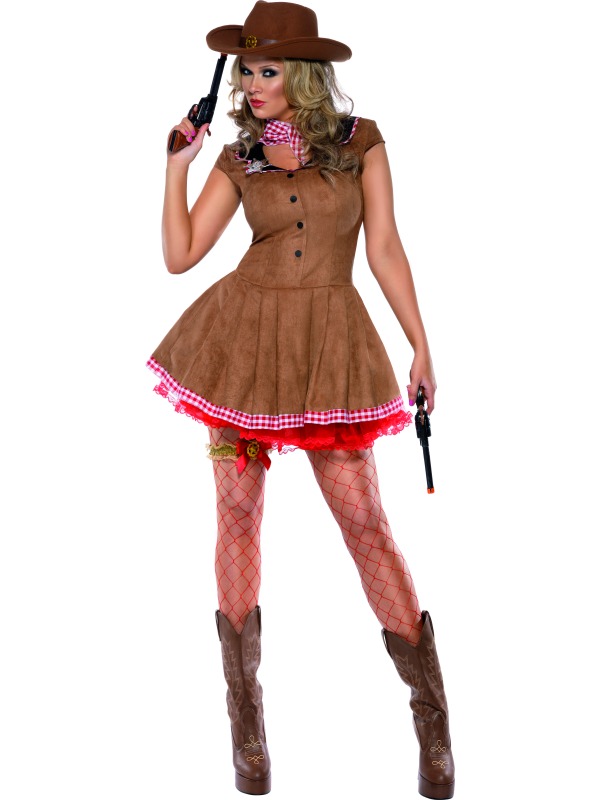 Brilliant neon
Jump straight into one of the best decades ever for fashion, disco and hairstyle: the Eighties. An age of Wham!, Live Aid, Smash Hits, and Pez sweets; this land of mulleted men and permed women is a treat for all senses.
The Neon hen party fancy dress theme is all about colour. Emphasise the Eighties with a pair of pink leg warmers, complement it with an orange tutu skirt, and finish off with a pair of purple braces and yellow fishnet gloves. Go full Irene Cara with some headbands and wristbands, and make sure nobody holds back with the neon lipstick, eye dust and body paint — there are few chances for this make-up palette in life.
It's impossible to have a dull hen night dressed like this.